Home > Sites > Sharon > Jaffa > St. George (St. Georgius)
Overview:
A Greek-Orthodox church, located near the southern entrance to Old Jaffa, and is known for its tall bell tower.
Location:
The church is located on the south-west hillside of the old city of Jaffa, near the southern entrance to Old Jaffa artists and tourist area. It is marked by a yellow square, as well as other featured sites.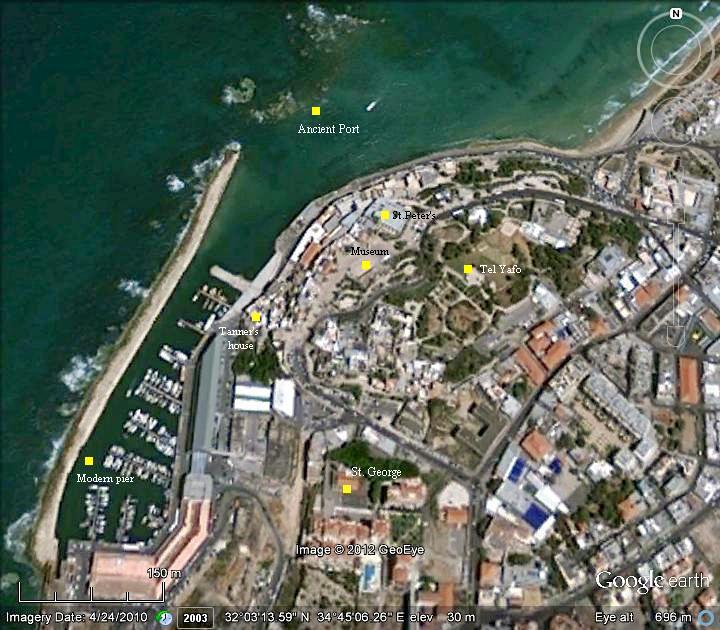 History:
Roman period - the story of St. George
The church is named after the martyr and great Christian hero, St. George.

St George was born and lived in the 3rd C AD in the Holy Land city of Lod (Lydda), a city south of Ben-Gurion airport. George, an early Christian, served as a Roman tribune and died in 303. His coffin is located in St. George church (in Lod; has the same name), where according to a 6th C tradition his remains are located. He is regarded as a martyr, a great Holy warrior saint, and is illustrated in the stone relief in Acre and in Lod/Lydda as a "dragon slayer".

The Lod/Lydda church was dedicated to St George in the Byzantine times, and later other churches - mostly Greek Orthodox churches - were named after the great Martyr.

St. George- the Dragon slayer

Stone relief (dated 1845),
The church was built at the end of the 19th C.
In January 2012 the community was shocked by the murder of the head of the church, Mr Gabriel Cadis, during a Friday evening Christmas parade. The assailant, who stabbed Gabriel, was wearing a Santa Claus suit.
You can visit the site which is located on the south entrance to Old Jaffa. It is best to park in the free parking area in Jaffa port, then climb up the steps towards the southern entrance.
Photos:
(a) Exterior:
The Greek Orthodox church - St. George - is located south of the entrance to the old city.
Click on the photos to view in higher resolution...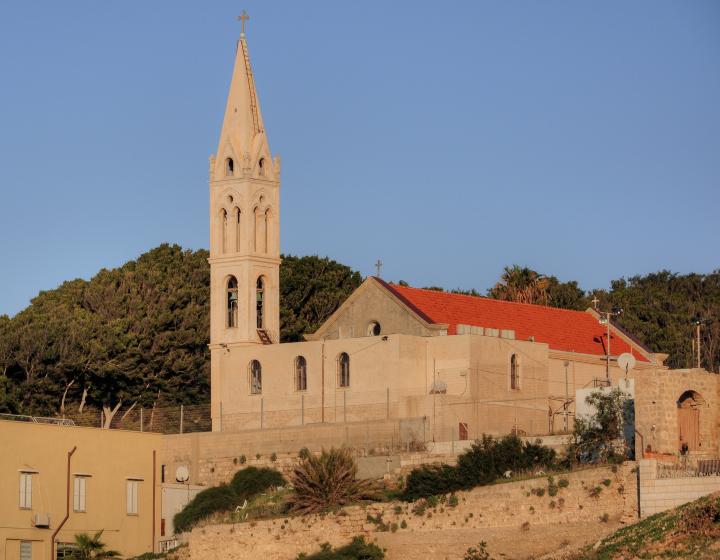 The impressive bell tower dominates the scenery of southern Jaffa.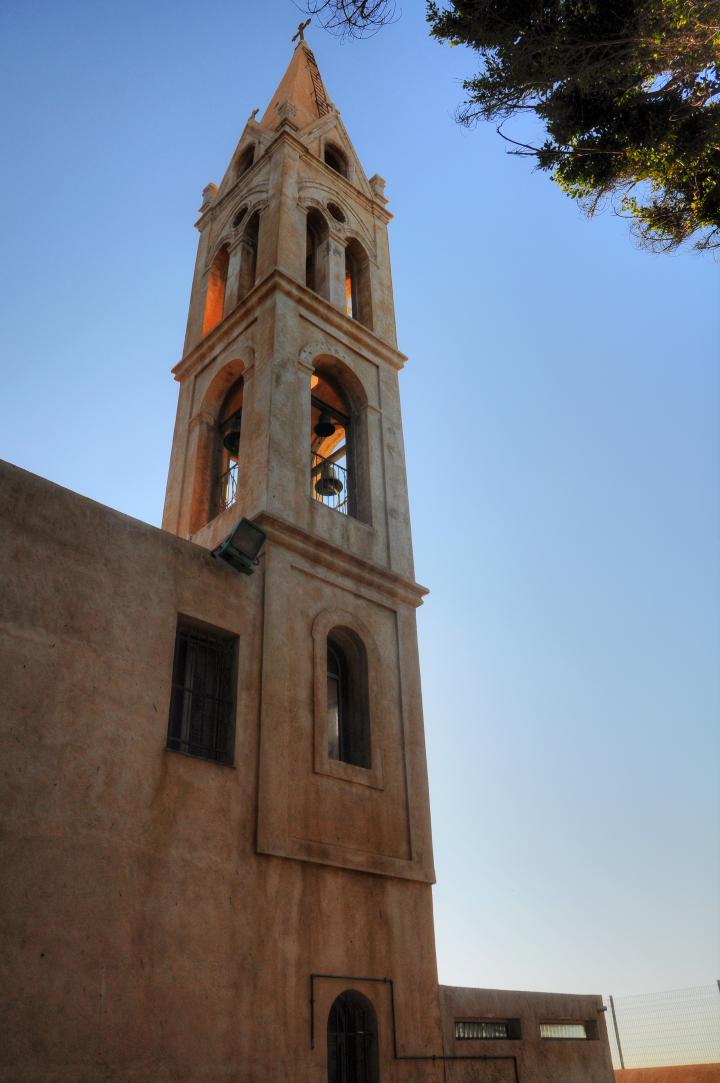 The next photo is a view from the north, with the residential complex "Andromeda hill project" seen behind it.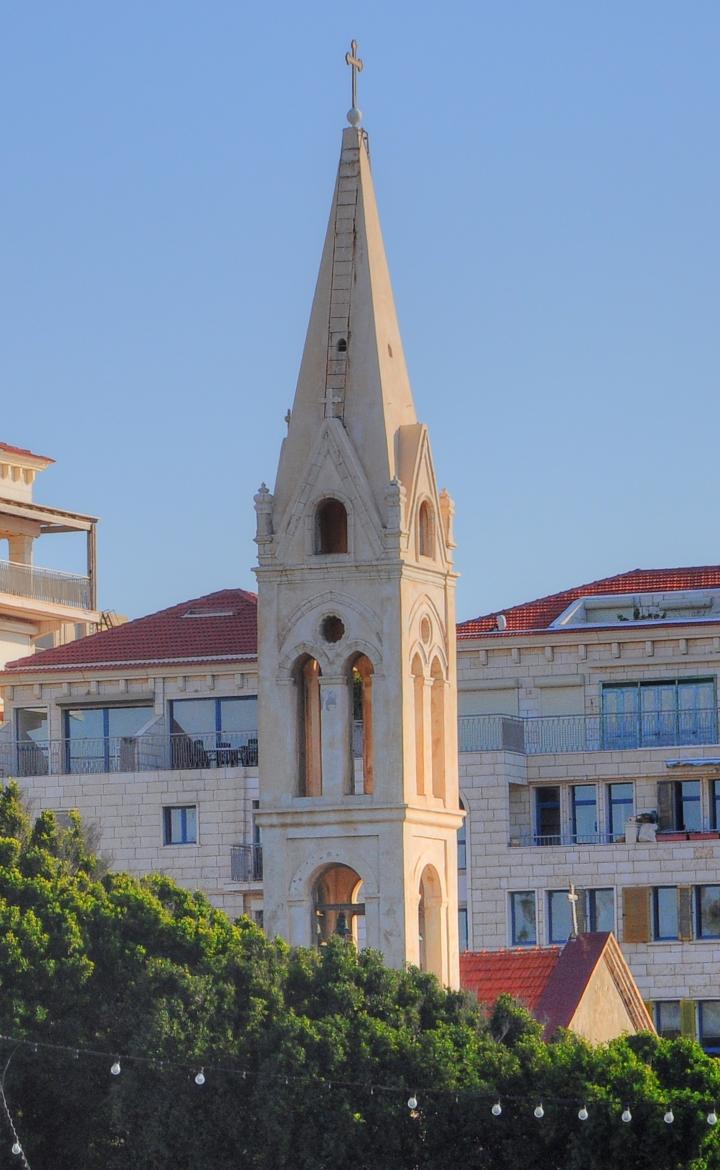 (b) Interior:
The interior of the church, seen in the photo below, is a typical Greek Orthodox church style.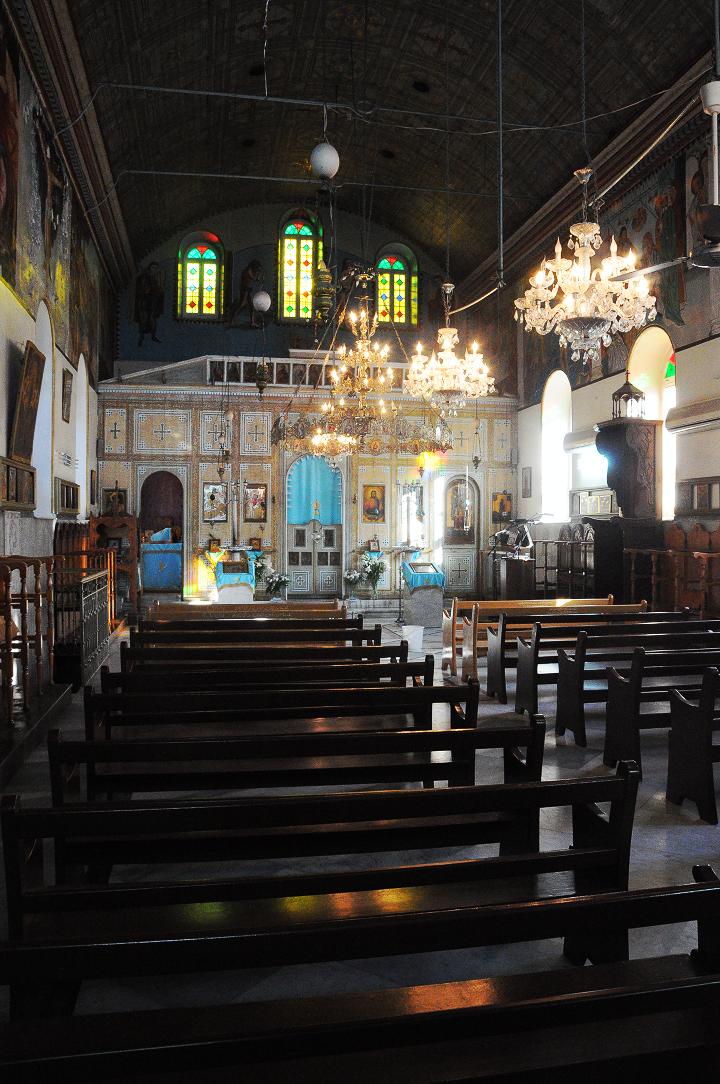 Etymology (behind the name):
St George -

St George was born and lived in the 3rd C AD in the Holy Land city of Lod (Lydda), a city south of Ben-Gurion airport. George, an early Christian, served as a Roman tribune and died in 303. His coffin is located in St. George church (in Lod; has the same name), where according to a 6th C tradition his remains are located. He is regarded as a martyr, a great Holy warrior saint, and is illustrated in many Churches as a "dragon slayer".

El-Khader - Arabic - the "green" one, a nickname for St. George (and Elijah)

St. Georgius - other spelling.

Stone relief, Acre St. George
Links:
* Internal sites - of Jaffa area:

* St. George:
BibleWalks.com - walk with us through the sites of the Holy Land
Jaffa <<<--previous Sharon site---<<< All Sites>>>-- next Sharon site --->>> St. Peter