This screensaver presents a selection of the Biblical sites of Holy Jerusalem, and maps them to BibleWalks pages.
For a free evaluation, download the screen saver by pressing the following button:
After asked to do so, save the setup exe file to your PC (for example, to your desktop). The download may take several minutes due to the large size of the file. After the exe file is downloaded to your computer, activate it in order to install it as a screensaver. You can also optionally configure it.
Specifications:
Contains 56 Biblical sites photos, with subtitles linking the photo to the event, and URL link to the web site.
Can be configured with user setup controls.
Wallpaper control.
No spyware or advertisement.
Powered by Stardust screen saver toolkit.
More than 50 transition effects; random display.
Released: Version 1.1 Jan 17, 2009.
Size: 44MB. Filename: HolyJerusalemSetup.exe
OS: Windows.
Free extended evaluation period (30 days). Contains all photos, but with additional web site pages which are removed after unlocked.
Purchase details after evaluation:
Unlock cost is 9.99$
price valid thru Dec31, 2014
unlock code will be sent by email within 2 working days
Secured payment by Paypal or credit card.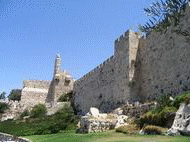 Holy Jerusalem screensaver, with a selection of the Holy city's Biblical sites. Pressing [F9] will switch the screen saver to a web page with additional info and photos.
Reviewed by Brothersoft Editor (1-18): "Jerusalem, the capital of Israel and the most Holiest city in the World, is located in the center of Israel, on top of the Judean mountains (700-800M above sea level). This strategic location, first selected by King David 3000 years ago, made the city the heart of the biblical Israel and the Jewish faith, a Holy city for the Christian and Muslim faiths, and the capital of Modern Israel. You can free download HolyJerusalem1.1 now".