"At that time Jesus came from Nazareth in Galilee and was baptized by John in the Jordan. As Jesus was coming up out of the water, he saw heaven being torn open and the Spirit descending on him like a dove. And a voice came from heaven: "You are my Son, whom I love; with you I am well pleased."

Luke (3:21-22)
"When all the people were being baptized, Jesus was baptized too. And as he was praying, heaven was opened and the Holy Spirit descended on him in bodily form like a dove. And a voice came from heaven: "You are my Son, whom I love; with you I am well pleased."

Identification:
Since the New Testament texts do not provide an identification with a known landmark, there are several traditions on the site along the long Jordan river. Some point to the Yardenit area closer to the sea of Galilee, some go south to Beit Shean, others to the section near Jericho near the Dead sea.
Likelihood of Yardenit as the Baptism site:
According to these texts, the baptism site is probably close to the sea of Galilee, since all the biblical texts do not describe a long journey from the Galilee to the place of baptism. Thus, Yardenit, or its vicinity, is a logical choice.
Beth-Abara:
According to KJV version of John, the place was called "Bethabara". In Hebrew this may mean "the house of the crossing" of the river of Jordan. There were many crossings along the river, and a probable place will be closer to the Sea of Galilee.
Beth-Abara is referred in the old testament in conjunction with the Jordan river, so it is very likely to be the same site. In the story of the victory of Judge Gideon over the Midians (Judges 7: 24):
Where is this place? An Arabic site of crossing of the Jordan may have preserved the name - Makhadet Abara (crossing of Abara), one mile north of the valley of Harod near Beit Shean, which is 20 KM south of Yardenit. Another traditional site is on the Jordan river near Jericho.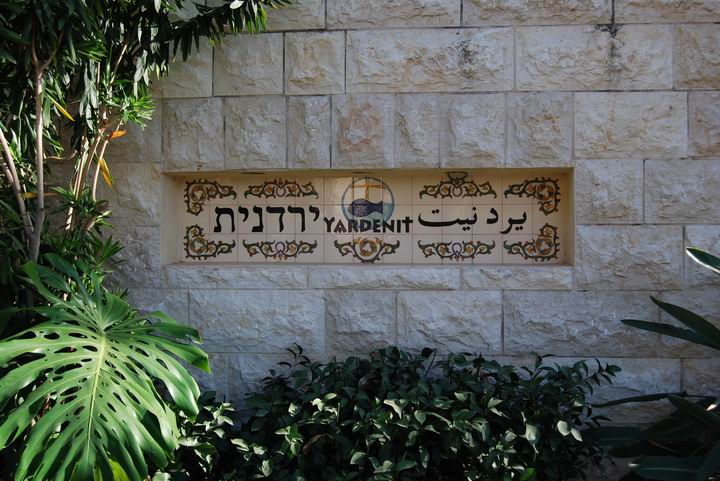 Entrance to the Yardenit center
Bethany:
According to other versions of John, the place is near Bethany. This village's exact location is not clear.