Home > Sites > Dead Sea >Nahal David stream, Ein Gedi
Overview:
The Nahal David stream flows year round on the northern side of Ein-Gedi. It is known for its springs, caves and history.
Ein Gedi and Nahal David were inhabited starting from the Chalcolithic period (5,000 years ago), and a temple from that period was excavated there. Along the stream are several findings from the Chalcolithic period to the Early Roman period.
This area is where David hid from the pursuing King Saul (1 Samuel 23 29: "And David went up from thence, and dwelt in strong holds at Engedi"). The stream is named after King David.
Today Nahal David is a nature reserve, open to the public, and a wonderful hike.
Location:
Nahal David flows into the Dead sea, north of Ein Gedi. An aerial map of the area is shown below, indicating the major points on interest. You can point on the purple points to navigate to the selected point.
Photos:
All photos by Tuvia & Shachar Liran.
The panoramic view shows the trail leading from the canyon of Nahal David to the falls and Duda'im caves. In the far background is the Dead Sea.

David waterfall is seen below, with Tuvia under the falling stream. The best way to cool down a hot day in the desert...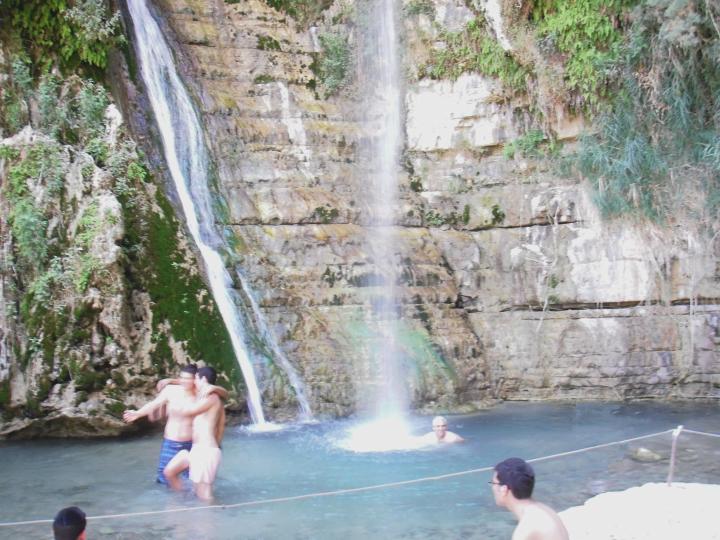 A closer view of the waterfall is seen below.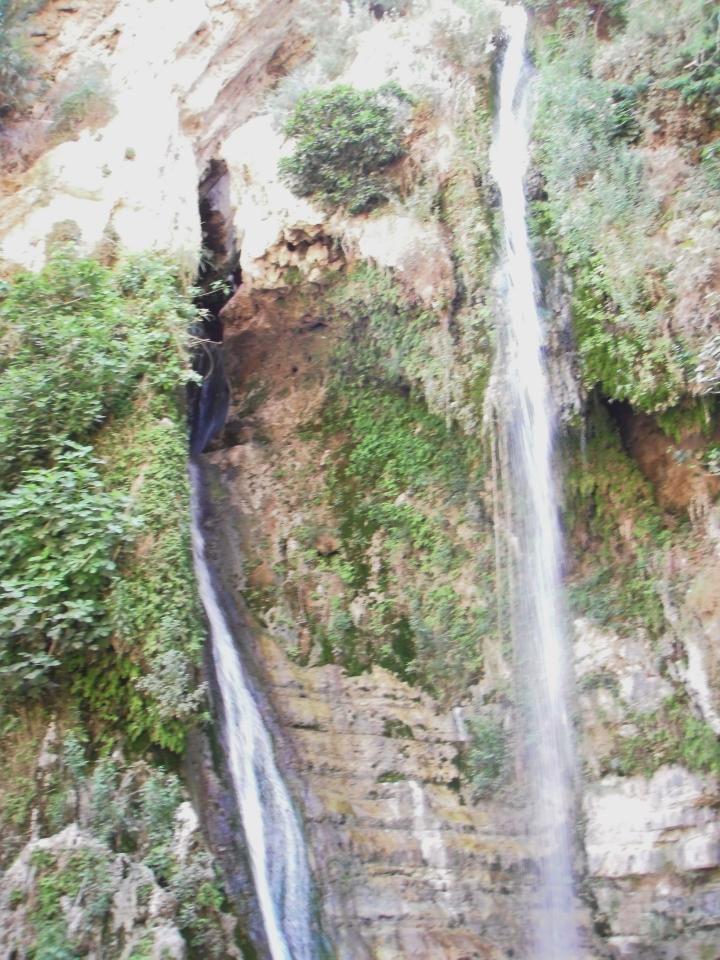 Biblical References:
(a) 1 Samuel 23 29, 24:1

Ein-Gedi was the place where David hid while being pursued by King Saul:

"And David went up from thence, and dwelt in strong holds at Engedi".

"And it came to pass, when Saul was returned from following the Philistines, that it was told him, saying, Behold, David is in the wilderness of Engedi".

(b) Song of Solomon 1:14

The vineyards of Ein Gedi (EnGedi) were celebrated in King Solomon's times:

"My beloved is unto me as a cluster of camphire in the vineyards of Engedi"
Etymology (behind the name):
Nahal - Hebrew for brook or river (Wadi in Arabic).
Ein Gedi - Hebrew: Ein-spring, Gedi - young goat. Prof Mazar suggested that Gedi is based on "Gedud" which means "many", and translates Ein Gedi to "many springs" - based on the four springs of the site which give it life in this dry area.
Wadi Sideir - the Arabic name of Nahal David (as in PEF maps), named after the Jujube (Christ's thorn, Sheizaf) trees that grow in its valley
Ain Jidy (A'in Jidi) - the Arabic name of Ein Gedi (as in PEF maps); preserved the ancient name
Links:
BibleWalks.com = Touring the Bible Land
Nahal Arugot<<<---previous site---<<< All Sites >>>---next Dead Sea site--->>> Ein-Gedi